Our AHOPE Angel is all about partnership!  Caring for Korah is a ministry that "exists to love and serve the poor in Korah, Ethiopia".  Their organization serves lepers, HIV/AIDS patients, orphans and widows with the goal to keep families together, provide children with the opportunity for education, access to medical care, proper nutrition and spiritual support.
What makes Caring for Korah an AHOPE Angel is their willingness to partner with AHOPE Ethiopia in order to educate our families in the art of bead making.  With nothing other than the desire to help our families develop skills that will enable them to build their businesses, staff came to AHOPE and ran workshops, teaching families how to make beads from raw materials such as paper and clay.
This amazing collaboration was spearheaded by Annice Moses, an AHOPE donor and great friend but it was the dedication of the Caring for Korah staff that made it happen.  Suzanne Payne Box, one of the co-founders and part of the US base of operations, readily gave her support for the project.  Nati Bazezewl, Program Manager, coordinated with Mignot Bekele, AHOPE's Program Manager, to make the project happen while Aregahegn Assefa, the Director of Caring for Korah, did the training.   The supplies were purchased by Annice and her husband, Mike, while the training itself was donated by the Caring for Korah team.  Suzanne stated that the team wanted the training to be a gift and was a way for them to serve.
Facebook conversations took place between Caring for Korah and AHOPE to determine what was needed; everything from supplies to design.  The goal of the project was twofold; to provide our families with additional skills so they could start their own businesses and to create a signature piece of jewelry for AHOPE.  The training, which took place over three days, taught our families everything from creating the clay to make the beads to how to dry the formed beads; how to decorate the beads to creating designs for jewelry.
The willingness to form a partnership and dedicate time and knowledge to help our families learn a new skill and develop their talent is what makes Caring for Korah our AHOPE Angel!
Making Clay Beads
The families are burning the turf to create the clay powder.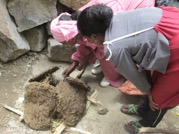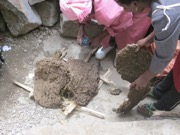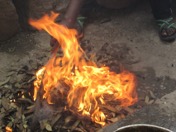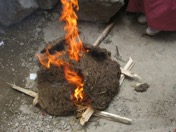 In the workshop, the powder is mixed with water and rolled to create the beads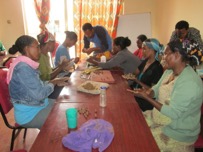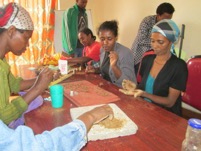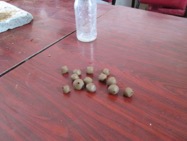 Here the beads are being strung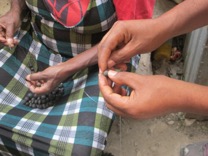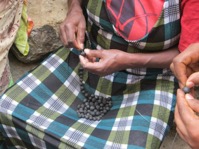 And hung to dry – Aregahegn Assefa helps one of our ladies hang the beads to dry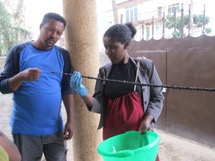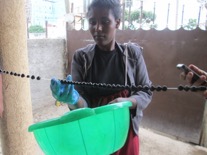 Making Paper Beads
Aregahegn cuts the paper which will be turned into paper beads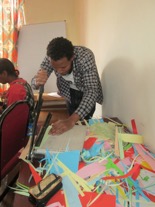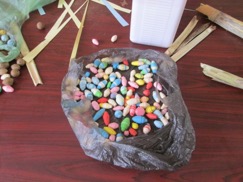 Beads still in raw form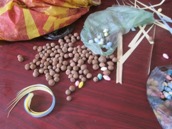 Finished Products